Lovely review on A Boy Named Rabbit, from Rosie Amber. Thanks again, Rosie!
Rosie Amber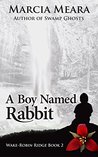 A Boy Named Rabbit: Wake-Robin Ridge Book 2 by Marcia Meara
My rating: 5 of 5 stars
A Boy Named Rabbit follows on from Wake-Robin Ridge. It is set in 2013 in the Blue Ridge mountains of North Carolina and focuses around the story of a young boy. This book has paranormal suspense elements.
10 year old Rabbit has lived in the mountains with just his Gran and Grampa for as long as he can remember. They live in a tent most of the year and caves during the winter with no contact with other people, apart from when Grampa goes to get supplies. Gran is ill and Grampa doesn't return from a supply run. In her last hours Gran makes Rabbit promise to leave the mountain and find a man with black hair and special eyes.
Travelling for two months alone, Rabbit survives until he reaches Wake-Robin Ridge and…
View original post 198 more words